Magnaclean Installation & Repair, London, Ealing, Hillingdon
A MagnaClean or MagnaCleanse system is a great way to prolong your boiler and central heating system's life and help it run more efficiently. When a central heating system is free from sludge build-up, then radiators get hot quicker, and the boiler doesn't need to run as long, which will save you money.
How Does MagnaClean Work?
The MagnaCleanse system removes iron oxide sludge (rust) that builds up inside the radiators and central heating system. The Magnaclean keeps the central heating system free from sludge and has become a popular product to install along with a new boiler.

Boilers are expensive pieces of equipment, and if you have a relatively inexpensive way to prolong their life and keep them running efficiently - why wouldn't you take it?
Corrosion affects all heating, from boilers at home to heavy-duty industrial systems. Adey developed a range the Magnaclean magnetic filters to remove the iron oxide sludge as it passes around the system, which keeps your boiler running at optimal levels. The first choice in extending the life of your boiler and saving you money.
A Choice for Everyone
There is a Magnaclean filter for every size system, from small filters for small domestic settings, to large commercial or industrial environments.
Some of the options are listed below.
MagnaClean Atom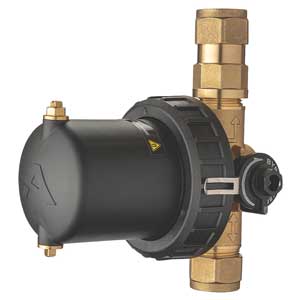 MagnaClean Atom The new MagnaClean Atom® is the smallest in the Magnaclean filter range. The Atom is a super-compact and space-saving filter that was designed to fit even the tightest of installations.
MagnaClean Professional2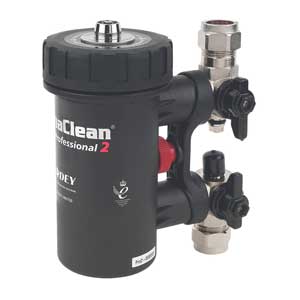 The Pro2 is the best selling Magnetic filter in the UK for a good reason. It is trusted by both users and installers to offer a great magnetic filter at a great price point.
MagnaClean Professional3 Sense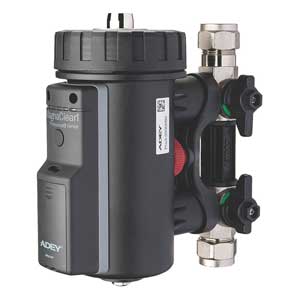 The new Pro3 Sense takes magnetic filtration to a new level as it allows you to monitor your heating systems remotely with the smartphone app. You can then easily send this data to us (or any heating engineer) if needed. The unique Sense® technology detects dangerously high levels of magnetite before it causes a boiler breakdown.
Domestic Installation & Repair
Our 24-hour domestic install or repair service means we can install your Magnaclean whenever is convenient for you, no matter your work schedule.
Commercial Installation & Repair
Our 24-hour commercial install or repair service means that we can install your Magnaclean at a point that will cause the least disruption to your business.
The Benefits of Cleaning Your Central Heating System
When there's microscopic sludge that can cause havoc in your system, you need a filter that can capture every single particle.
Removes build-up of rust/sludge in radiators, making them hotter and more efficient.
Reducing sludge circulating in the system results in 30% fewer breakdowns and less boiler damage.
Radiators are easier to heat; energy bills reduced by up to 6% on average.
Improved emissions from the system with a reduction of up to 300kg per year.
What is the MagnaCleanse system?
From the Adey website, they say it better than I could: "Combining our RapidFlush filter and VibraClean agitator, MagnaCleanse® system flushing removes system debris. The precision agitator removes more sludge in 20 seconds than can be extracted in 30 minutes without it. It even shifts hardened debris, reducing the need to remove radiators to completely clean the system."
Coverage Areas:
We are based in Ealing, but we cover West Ealing, Acton, Ashford, Barnes, Beaconsfield, Brentford, Chelsea, Chiswick, Egham, Feltham, Fulham, Greenford, Hammersmith, Hanwell, Hayes, Heathrow, Hillingdon, Hounslow, Ickenham, Isleworth, Iver, Kensington, Kew, Ladbroke Grove, Northolt, Notting Hill, Paddington, Perivale, Putney, Ruislip, Slough, Southall, Staines, Stanwell, Sudbury, Sunbury, Teddington, Twickenham, Uxbridge, Wandsworth, West Drayton, Windsor, Wraysbury all of the west London area, and the surrounding areas. Check the area map for more information.
We supply both businesses and residential customers in the London and surrounding areas - and as we are a local plumber we are never far from where you need us.
Please don't hesitate to get in touch on
07494 691 692
CIPHE Registered Engineers
CIPHE or the Chartered Institute of Plumbing and Heating Engineers was founded in 1906, and is the professional body for the UK plumbing and heating industry.
Our qualified specialised engineers work 24 hours day and night, 7 days a week, 365 days a year - so we are ready and able to help, no matter the size of the job. Work carried out by our engineers is fully insured and comes with 6 months warranty.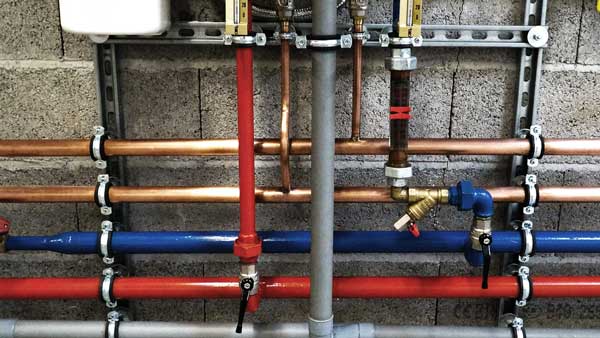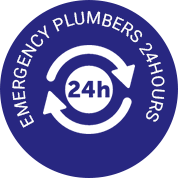 We know that when a boiler goes wrong, or something starts to leak it can be a stressful and unpleasant experience. That's why we are available 24 hours a day! Helping you get back on track.
Helping People 24/7
We understand what it's like, everyone works longer hours, commutes more and has less time in their busy schedule. We are here to help 24 hours a day so that we can help when you need us, and at a good time for you.
Don't hesitate to get in touch, day or night.