Blocked Toilet in Ealing, Hillingdon, or London? We can help
Blocked toilet? You're in the right place!
A blocked toilet can be a nightmare! No one wants that. Which is why we have our mobile plumbing engineers working across Ealing, Hillingdon and London 24/7. Unless you are lucky enough to have a spare bathroom to use you'll need help ASAP. So, call us now.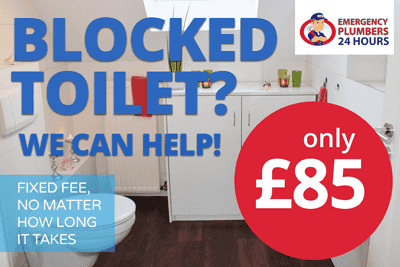 The water's still not going down! What do you do?
Let us save the day!
Our fixed fee service is one of the most requested features from our customers. Most plumbers charge a callout fee and then charge an hourly rate or even a per 15-minute rate on top. So you are left not knowing how long or how costly your plumbing job will be. We have a low fixed fee for unblocking toilets, no matter how long it takes.
We are professional, reliable, and affordable plumbers in Ealing, but we cover West Ealing, Acton, Ashford, Barnes, Beaconsfield, Brentford, Chelsea, Chiswick, Egham, Feltham, Fulham, Greenford, Hammersmith, Hanwell, Hayes, Heathrow, Hillingdon, Hounslow, Ickenham, Isleworth, Iver, Kensington, Kew, Ladbroke Grove, Northolt, Notting Hill, Paddington, Perivale, Putney, Ruislip, Slough, Southall, Staines, Stanwell, Sudbury, Sunbury, Teddington, Twickenham, Uxbridge, Wandsworth, West Drayton, Windsor, Wraysbury all of the west London area, and the surrounding areas like Richmond.
We are reviewed extremely well on TrustATrader and Google. We deal with plumbing emergencies daily for people just like you and we can be with you within an hour.
What causes a clogged toilet?
A clogged toilet can happen gradually, over the last few weeks and months you may have noticed the water takes longer to go down after flushing. But one day this could get the point that it just stops going down completely. What's changed?
Nothing has changed, but the gradual process of build up has caused more and more restriction in the water flowing in the pipes. If there is a slight blockage, it doesn't take long for the tube to become completely blocked.
Sometimes it's not gradual. Usually caused by flushing too much toilet paper, nappies or sanitary products in one go. Or by flushing something too large down the toilet; often children flush whole toilet rolls or unwanted stuffed toys down the pan or try to let their Barbies or Power Rangers enjoy a waterslide. In these cases, there is no gradual reduction in water flow, but a sudden and complete stop.
Whether it was sudden, or gradual, we can help!
No matter the type of toilet blockage, the cause is the same. A blockage in the pipe is restricting water going through the pipe.
That is where we come in!
How do we fix the blocked toilet?
We assess the situation and make an informed decision based on the information you can provide and other identifiers.
We will start with the basics so we can get you up and running ASAP. But we aways bring enough tools to the job in case we need to employ more advanced techniques to unblock your loo. These can include drain rods or CCTV inspection when required.
Domestic and Commercial Toilet Unblocking Service
We don't only help domestic customers; we also help commercial clients on a daily basis.
Do you have a restaurant or shop in the local area?
The last thing you need is for one of your toilets to be out of order. Maybe you only have one toilet available. It doesn't look good if your toilet is out of order, or if the bathroom keeps getting flooded.
Call us, to get the problem sorted TODAY.
Other Toilet Related Problems:
Leaking Toilet
Toilet Overflowing
Contact us now for a quick quote
Blocked Drain Cleaning
Sometimes blocked toilets aren't the whole story, and it might be that the drain is blocked instead. What's the difference? It depends on where the blockage is and will determine how our plumbing engineers go about fixing the problem.
Blocked drains and toilet blockages can be a nuisance, and you will feel the effect straight away, so we offer a twenty-four-hour service seven days a week. We also pride ourselves on quick and efficient service.
How can I tell if it's a blocked toilet or drains?
Imagine that all the wastewater goes to the drains; you can usually tell where the blockage is based on the water that doesn't go down. If it is limited to one toilet, it is probably a local blockage to that fixture. The blockage will likely be in the drains if more fixtures start backing up.
The local council is in charge of the drainage system that connects all the houses, but you (or your landlord) are responsible for the drains on your property. As soon as the drain crosses your property, it becomes your responsibility as it is not part of the public sewer system.
Our Emergency Service
As an emergency plumber, our toilet and drain specialists are on hand any time to help with your blocked toilets. We can help if you are a homeowner, tenant or landlord. We can also help if you run a commercial property such as a hotel, care home, shop, restaurant or other business.
We aim to fix your drainage problem is as soon as possible and even offer a fixed price toilet unblocking service, so you know exactly how much it costs no matter how long it takes.
In London, Hillingdon, or Ealing, blocked toilets don't need to be a nuisance for long, as we are on call with our fast response and excellent service 7 days a week. Our plumbing engineers are available 24/7.
Other unblocking services
We can unblock all drains and fixtures including:
Bath unblocking
24-hour plumber in London
The benefit of finding a plumber nearby is that they can be with you quickly! The advantage of using a plumber that is 24 hour, is that we can fit our work around your busy life. If you work shifts or nights, then you want a plumber now!
Are you looking for a reliable plumber In London?
With many years experience offering a 24-hour emergency response, we are experienced enough to tackle any plumbing and heating job, with the utmost care and attention, while being careful and respectful of your home or business premises while undertaking the work.
EP24 are ready to respond to any plumbing and heating issue, big or small, whether planned or an emergency, our local team of highly experienced CIPHE certified plumbers in London, are on call 365 days a year.